TV-in-a-Box
AVIQ now offers a unique business proposal to telecom companies, ISPs and operators:
a turn-key Television service.
If you offer an Internet service and telephony, but you do not have a TV offering, this is the service for you ! Your subscribers only need to have a reasonably fast Internet access at home, and you can offer them a wide selection of TV channels, movies, TV series and other services which we can set up for you within a very short time frame.
The TV-in-a-Box service consists of several cloud-based products & services offered as a single package:
All end user devices (TV Boxes, Apps for mobiles and Tablets)
A cloud-based Live TV, 7-day Catchup, Recording and Pause service
A Television streaming service with up to 350 TV channels already in operation
A comprehensive Electronic Program Guide with Search functions and a Favorites list
An online software update system
A sophisticated tracking system for technical supervision and tracking of usage data (ATP)
A cloud-based box management system (ABMP)
The TV-in-a-Box package is offered to ISPs, cable providers and telcos as an extension of an already existing TV offering or as a new offering in addition to other existing services like telephony or Internet Service providing.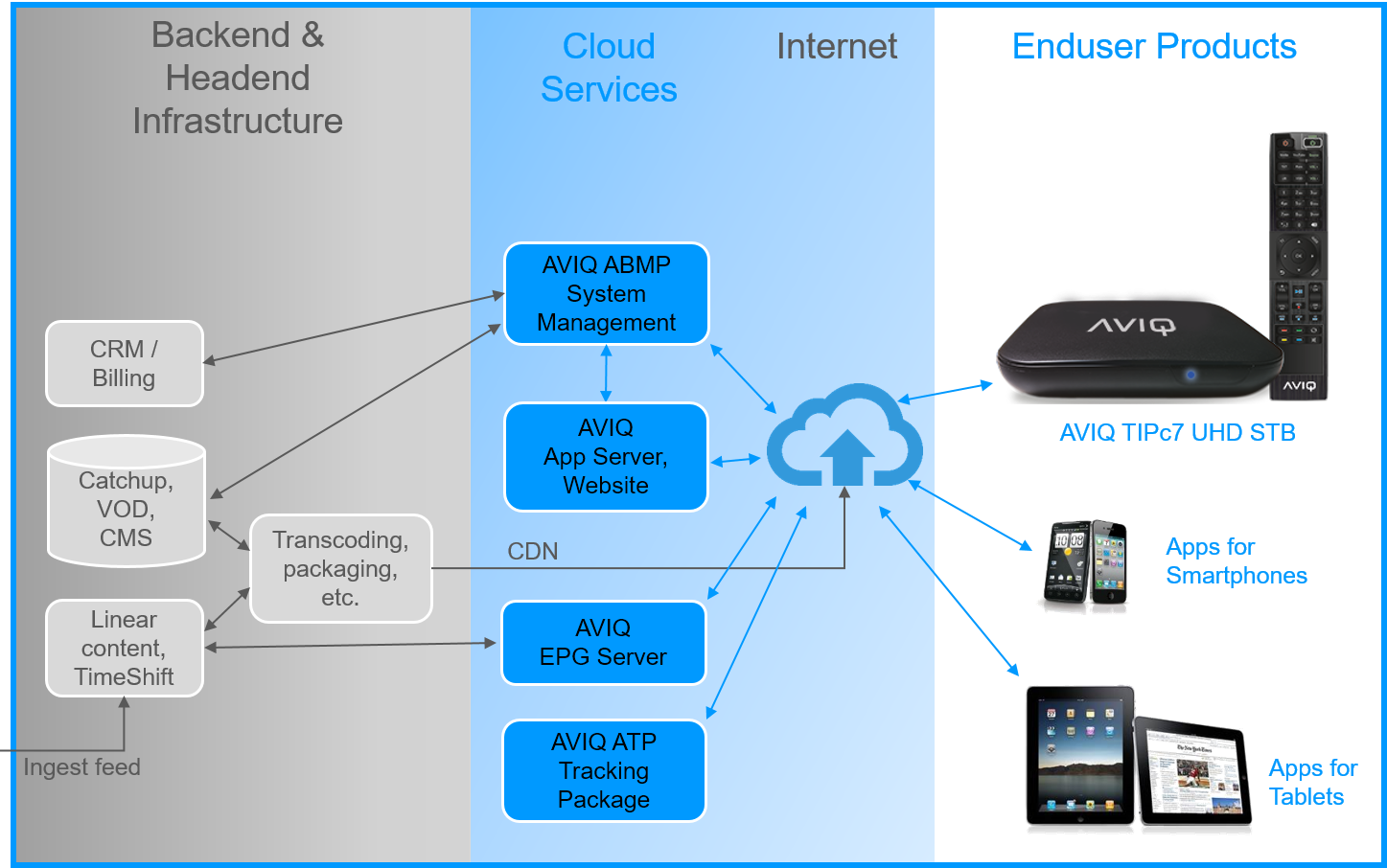 AVIQ TV-in-a-Box Benefits
You can:
Reach more subscribers by deploying your new TV service on multiple screens (STBs, Tablets, Phones) and reaching out-of-footprint users
Increase profitability because OTT uses a cost-effective open network
Deploy new, revenue-generating services such as VoD more easily
Reduce risk because you do not need to make a major capital investment, or rip out existing infrastructure, you simply add OTT on top of it
Offer rich features like LiveTV, CatchupTV, Recording, Pause, etc. and help increase subscription revenues