ATP Tracking Package
ATP: Big Data Analyis
AVIQ products such as Set-Top Boxes and Apps gather many data points about their usage and technical performance. This data is stored in databases in the Cloud and data mining is applied. With the ATP tracking package, AVIQ's customers have online access to real-time information as well as historic data. This data is used for system monitoring, analytics of demographic data, ad targeting, etc.
How does ATP Work?
ATP Features
AVIQ's ATP Tracking Package offers the following features:
Quality monitoring: monitor errors, crash logs, other events, locations of the settop boxes and apps, performance of the system as a whole, software versions, analysis of various quality aspects.
User behavior tracking: real-time usage tracking, long-term statistics, most watched channels, user location, on/off times of devices, device start events, TV channel changes.
In the User Interface, there are pre-configured dashboards (graphs, pie-charts, maps, etc.). Depending on the chosen options, users can edit dashboards according to their needs or add their own dashboards at any time.
ATP Options
AVIQ's ATP Tracking Package comes pre-configured with a whole host of useful dashboards with analytics information. All data is fully Cloud-based, there is no hardware involved. We can therefore install and deliver the ATP package within hours of your order.
Option 1 – Basic monitoring package: AVIQ's customers receive access to a set of up to 10 pre-configured dashboards which can be used for real-time monitoring, analyses and drilldowns of data from all customer's devices. Data is retained for online analysis for 14 days.
Option 2 – Full-Access tracking package  – Everything in Option 1 plus: full access to reconfigure the dashboards, visualizations and searches, data export for downloading and further analysis, data retention plans for 3, 6 or 12 months of online analysis, and long-term data storage in the cloud for up to 4 years to be used for off-line analysis.
Option 3 – Technical Quality Control package: Monitor your system performance on the go via a smart device app or on your PC, and get real-time alerts when something is critically affecting your system. Check currently active users, adoption of new software versions, analytics of crashes for each software version and time spent using the devices.
Examples of dashboards – Quality monitoring

System Usage Tracking Statistics: A variety of graphs showing various technical parameters is put together to create a quick overview of the overall real-time system performance.

System Performance Tracking – Historic Statistics: Long-term information showing system performance over weeks or months.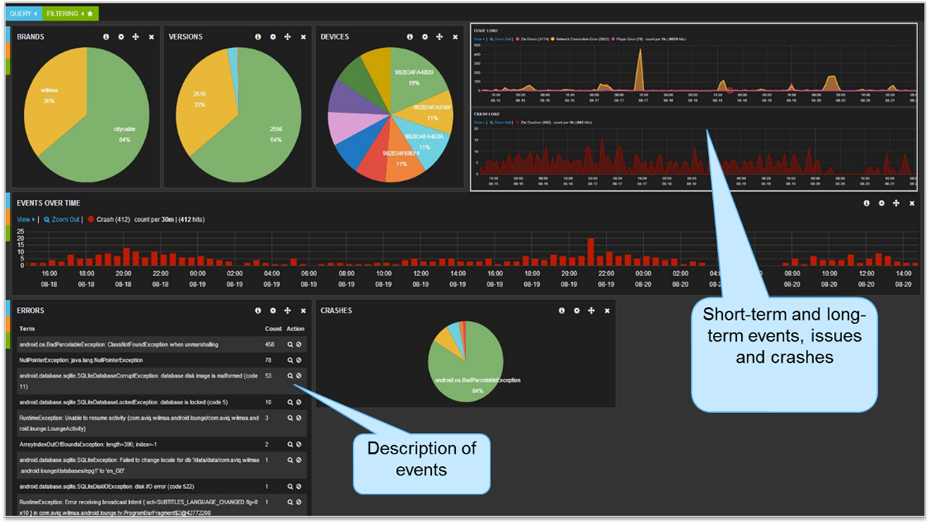 Logging of Issues and Errors: shows various errors and issues in order to debug the system. Information on each of the events can be drilled down for more details by user, software version, location, etc.
ATP Functional Overview – User Behavior Tracking

Real-Time TV Viewing Measurement: Provides information about watched channels, zapping from and to a particular channel with accurate time stamps, allowing the operator to determine popular channels, or track people zapping away from particular channels in real time.

TV Viewing Data: Summaries of most popular channels by region or by time period. Most popular TV channels, user search keywords, titles of all recorded programs, played back recordings, and much more is also included.

User Locations: pinpoint the Set-top box location down to the street level or see the distribution of boxes in a region.